Going on a Nutcracker Hunt
Color a Nutcracker | Crossword Puzzle | Wordfind Puzzle | Nutcracker Hunt (in Person Only) | Color the Map

A Fun Activity....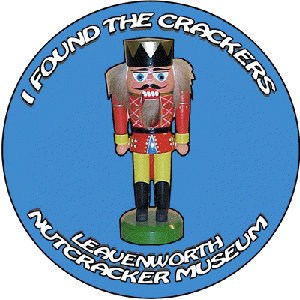 The Nutcracker Lady has created several variations of "Nutcracker Hunts" for beginning readers all the way through adults. Armed with a list of nutcrackers, a clipboard and a pencil, folks will roam about the museum hunting for those nutcrackers named on their sheet. A completed list deserves a pin that states "I found the Crackers".
---
The nutcracker hunt for the youngest enthusiasts... (Ages 5 & 6 year olds) will take young kids on a search for fun characters such as... Mickey Mouse, Clown, Soldier, Witch, and a Man with a Long Nose.
As each list gets a little more difficult with each age group, the next hunt will be looking for ones like Mouse King, Panda Bear, Train with Engineer, Sneezy, and a baseball player. Some more characters may be a Fisherman, a Farmer, a Rooster, the Cowardly Lion and an Alligator.
Harder yet comes nutcrackers like Pinocchio, Soldier in Camouflage, Monkey in a Top Hat, Boy on Snowboard, and a Pig.
The beginning teen years will be looking for an Elephant, a Guitar Player, an Astronaut, a Kangaroo and a Shoe that cracks nuts.
Our high school visitors to the museum are looking for a Metal Donkey, a Bear on a Sled, Columbus, a Cave Man or a three-legged Man.
And adults? Oh yes they can hunt too and the list gets even harder.
The Nutcracker Lady is sometimes available to give some hints when someone really gets stuck.
Is your nutcracker enthusiast unable to read?
If your nutcracker enthusiast cannot yet read, we even have a nutcracker hunt that uses pictures instead of words. Those too young for a pin can have a coloring sheet for for their completed hunt!
---
Contact Us
Part of the Leavenworth Nutcracker Museum
735 Front Street, Leavenworth, WA 98826
509.548.4573
Be sure to visit our sister websites.
www.nutcrackerday.com www.nutcrackermuseum.com
| | |
| --- | --- |
| Also find us on Facebook: | |